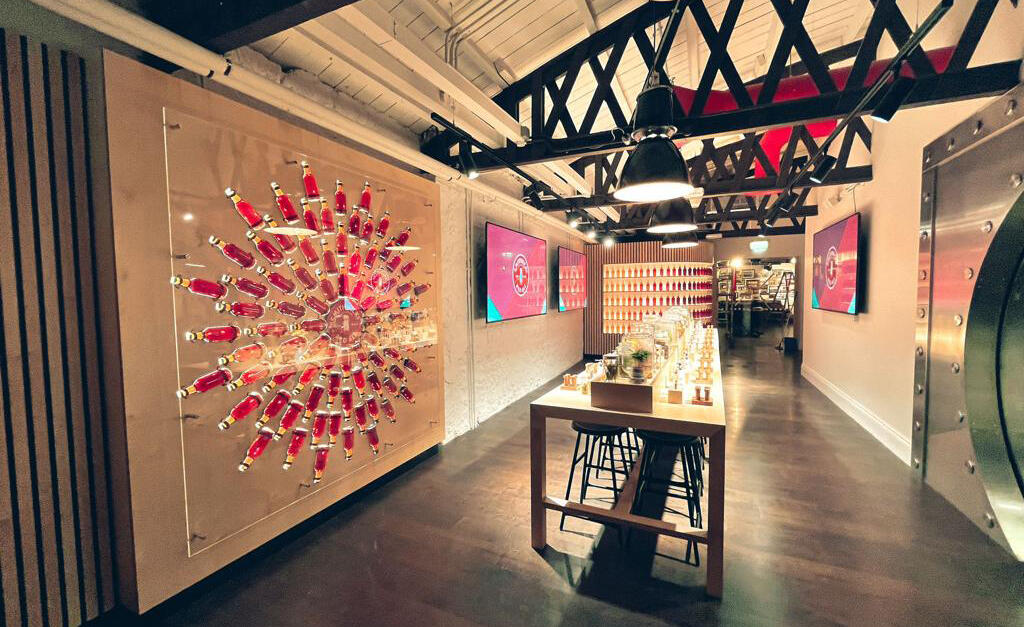 Irelands oldest ale returns to Kilkenny
The new Smithwick's Experience opened its doors last month in Kilkenny on the former site where the ale was brewed from the 1700s to 2014.
Marcon were delighted to be appointed by Diageo UK to work alongside Catch Events and Drinksology to deliver the fit out of this incredible building.
The unique Smithwick's Experience explores the brewing heritage of the Smithwick family and more than 300 years of brewing history.
Exciting new spaces provide visitors with a multi-sensory experience that immerses them in the story of Ireland's oldest and most popular ale.
Works were completed within the flavour rooms, reception, malting rooms and bar area, really enhancing the overall experience.
The updated entrance walls have been clad with timber laths and embedded amber led lighting, 'warming' the area up and beginning the link to the dark amber red from the beer.
Within reception the large desk has been constructed to resemble large timbers and long curved timber tapering laths are fixed off the wall, to give the idea of barley reeds.
The Flavour room contains sensory benches to allow visitors to immerse themselves in the raw ingredients of Smithwick's Red Ale and how they combine to bring the beer to life.  The sensory bench includes an array of visual cues, tour props such as test tubes enable nosing various aromas such as malt, hops, and a tasting prop to highlight malted barley taste.
The feature bottle display provides visitors that perfect Instagram moment.
The main bar has been updated and led lighting creating an ambience and encouraging visitors to relax in the space.
Catherine Toolan, MD, Brand Homes Diageo Ireland told Kilkenny Press
"As well as offering first-hand experience of the brewing process, tour guides take visitors on a storytelling journey, introducing guests to memorable characters along the way.
There are also new investments and innovations added to the experience as part of the reopening."
Ms Toolan continued; On arrival, visitors will see the striking new mural that represents the vibrant culture and rich history of Kilkenny. As you step inside, visitors can now experience our new Smithwick's Flavour Room. The Smithwick's Flavour Room is a sensory experience that immerses the visitor in the raw ingredients of Smithwick's Red Ale and how they combine to bring life to the beer."
Phase 2 is currently underway which includes the Design and Build of the outdoor space which will expand the experience, allow for more capacity and offer visitors the chance to enjoy a cool beer in an outdoor setting.
Tickets to the Experience are available to purchase at www.smithwicksexperience.com