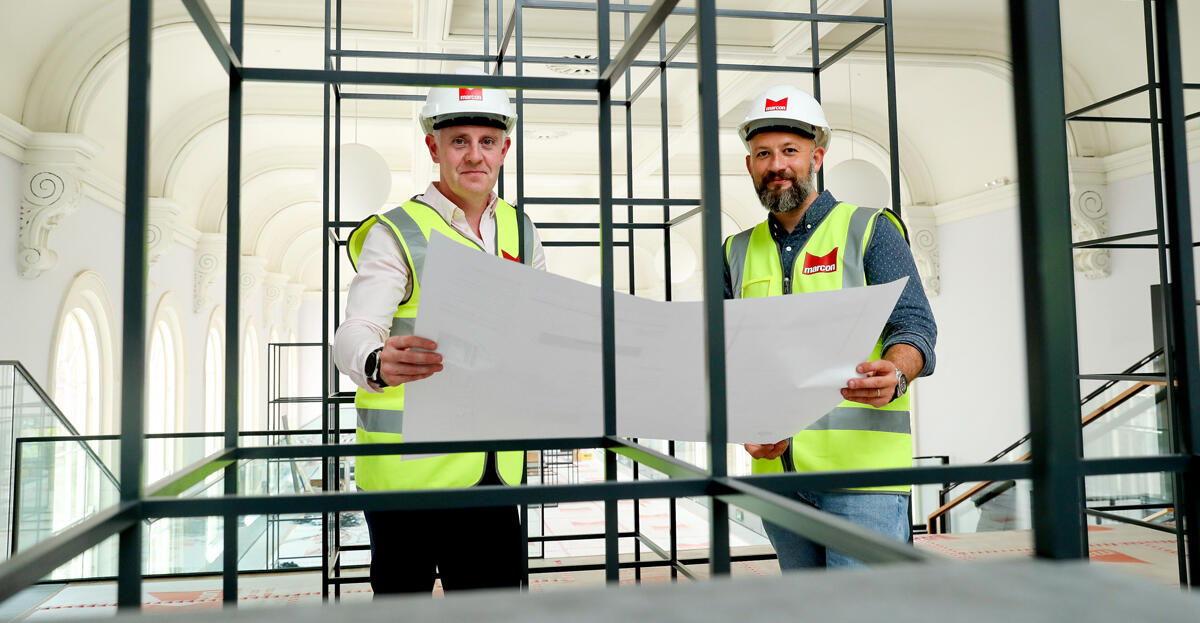 Marcon begins final chapter at new Museum of Literature Ireland in Dublin
Marcon has been entrusted with the fit-out of one of Dublin's most anticipated projects in recent years. UCD Newman House situated at St Stephen's Green in the city will be transformed into the Museum of Literature Ireland (MoLI) – an ambitious €10.5m project that brings University College Dublin and the National Library of Ireland together to create a new literary attraction with international appeal.
MoLI's focus will be on 20th and 21st century writers with a particular emphasis on James Joyce, arguably the university's most famous graduate.
The museum will also feature other literary luminaries from the past and present, ranging from Newman, Hopkins and Beckett to Donoghue, Tóibín and Meehan.
MoLI will be mainly housed in the former Aula Maxima of UCD. The college owns three contiguous buildings on St Stephen's Green South – the Aula Max, as it was always known to UCD students, and beside it 85 and 86 St Stephen's Green.
Marcon will work closely with internationally acclaimed museum and exhibition designers Ralph Appelbaum Associates to complete the fit-out of centre.
Marcon's heritage team will be responsible for the manufacture and installation of specialist joinery, display cases, bespoke metalwork, graphics and feature lighting throughout the space.  Marcon's joinery workshop will play a vital role in the manufacture of the specialist joinery ensuring the highest standard of finish is achieved.
MoLI, with its high-quality, sophisticated design will present a rich panorama of Irish literature with the centre piece being the very first copy of the first edition of James Joyce's Ulysses, one of the National Library of Ireland's most precious literary treasures.
Martin McErlean, Heritage Contracts Manager, Marcon comments; "We are really pleased to be carrying out the exhibition fit-out within the new Museum of Literature Ireland.  This is a wonderful project to be involved in and the international appeal of the museum will allow us to showcase our craftsmanship to the world."
Mirko Cerami, Architect and Exhibition Designer, Ralph Appelbaum Associates adds; "Ireland has an incredibly vibrant and creative literary tradition, encompassing everyone from literary giants such as James Joyce through to young, up-and-coming new writers and poets. We are honoured to be given the chance to share this tradition with the world, inside the historic Newman House, a home to teachers, writers, poets and playwrights for over 100 years. RAA's exhibition design takes visitors on an immersive journey through the words, language and sounds of this vast tradition, from the streets of Joyce's Dublin to the contemporary slang of writers today. We hope that MoLI will inspire a new generation to not only connect with Irish literature's glorious past but also to go out, write and contribute to its vibrant future."