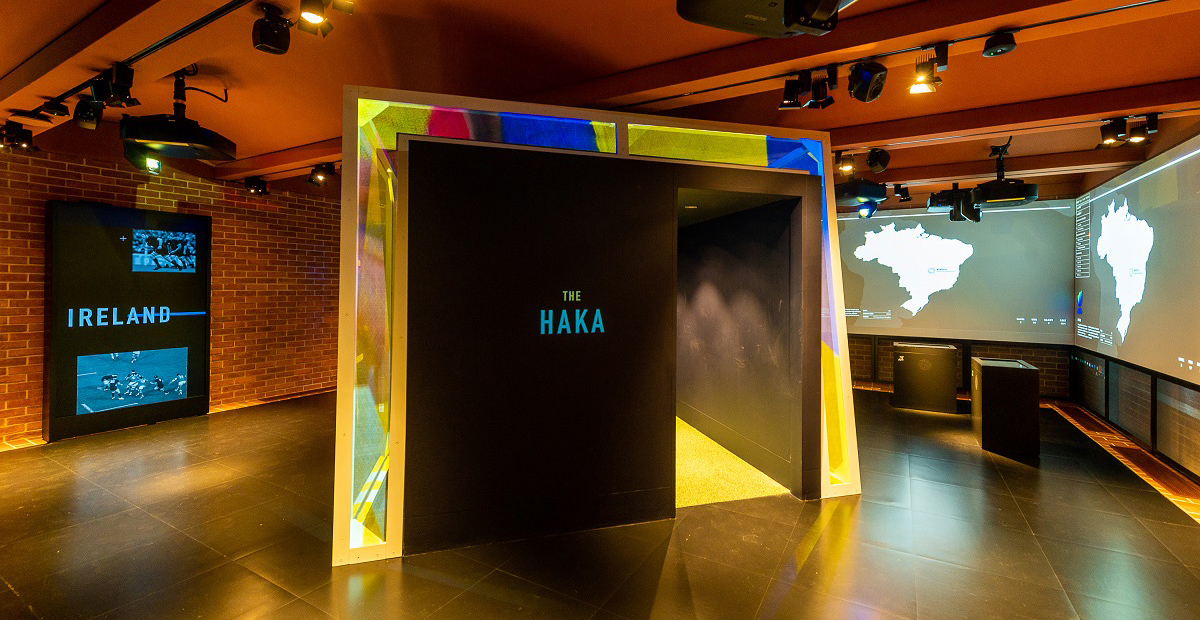 Limericks hotly anticipated International Rugby Experience opens
A new Limerick attraction has officially opened its eagerly anticipated visitor experience.
Marcon were delighted to handover the fit out of the International Rugby Experience.
The International Rugby experience is a state of the art, interactive experience to celebrate Rugby on a global scale. The opening of the new attraction cements Limerick's standing as one of the great centres of Rugby.
Marcon were responsible for all specialist items installed.  This  included showcases and mounts, specialist lighting, graphics, physical and digital interactives. 
Visitors are whisked into the history of rugby from the grass roots, through training, and the importance of determination and skills of the team and individuals.  It allows them to see what it takes to become a rugby legend.
The six-story building is split into five main experience spaces with aligning transition spaces and control rooms.  The experience spaces include:
Legendary Moments
Future Legends
Legendary Skills – Within this area guests will be invited to take part in four fun interactives.  They can compete against family, friends and even the Legends themselves in the key skills of rugby – kicking, passing, running, and tackling.
Legendary Teams
Legendary Nations
Legendary Players
Each of the spaces has a different character and proposition. As visitors ascend through each space they learn about each value and its importance to the game, the players, the wider squad and the community.
The new permanent exhibition shares the captivating stories of some of rugby's most legendary players.  A series of fascinating exhibits are on display, including props and photos. The exhibition seamlessly blends archival footage, audio and images with innovative digital displays and projections.  Media is at the fore of all exhibits through a multitude of dynamic approaches.  From emotionally driven video content and gripping audio scapes, to immersive skills interactives, gallery-wide projection shows, face-to-face virtual encounters with legendary rugby players and much more.  This all required detailed mock ups, prototyping, testing and robust sign offs to ensure the client and design team aspirations were met.
Heritage Contract Manager at Marcon, Martin McErlean commented on the project: "It's really satisfying to see the building completed and open to the public after all the hard work put in by the entire project team.    The result is something very special and unique.  There is nothing like it anywhere in Ireland. It's a new visitor experience that Limerick will be proud of and offering people of all ages and abilities a chance to be inspired by rugby sport."