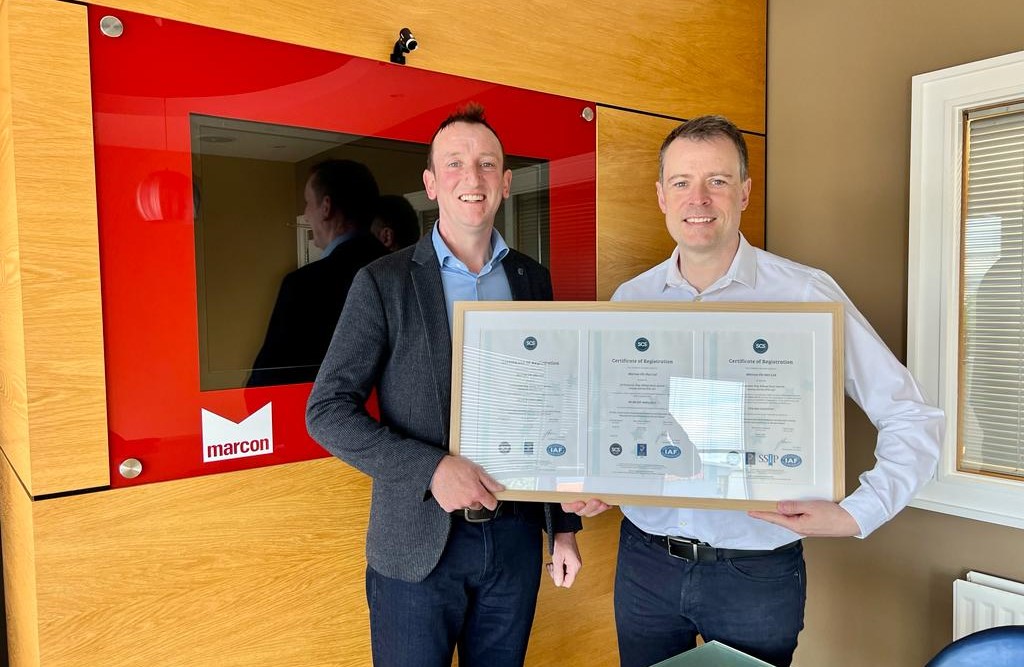 Exceptional performance during ISO audit
On Thursday 11th and Friday 12th May the company underwent the external ISO 9001 (Quality), 14001 (Environmental) and 45001 (Health and Safety) annual surveillance audit.  The audit assessed the compliance of the company management systems against the international ISO standards.
The audit assessed our processes to check the suitability of standards, regulations, procedures, and conditions of implementation in the company.
Following a rigorous 2-day audit by SCS Ltd which included a full workshop audit, the company receive zero non-conformances and zero areas for improvement against the standards and therefore maintained our ISO accredited status.
This is a fantastic achievement and a credit to our whole team.  It demonstrates their dedication to implementing the highest standards of Health and safety, environmental management and quality across our offices, workshop, and sites.
Andy Watson, Marcon SHEQ Manager commented "Following the 2-day surveillance audit, we are immensely proud to have achieve confirmation that our ISO 9001, 14001, and 45001 systems remain class-leading. This solidifies our commitment to excellence in quality, environmental sustainability, and occupational health and safety. This continued accomplishment showcases our unwavering dedication to providing class leading services while ensuring the well-being of our employees and the environment. The continued journey towards maintaining these prestigious awards has been a testament to the hard work, collaboration, and stringent adherence to international standards demonstrated by our entire team. The achievement reinforces our commitment to our clients and stakeholders, assuring them that they are partnering with a company that prioritizes quality, sustainability, and the safety of its people. Moving forward, we will continue to build upon this success, driving continuous improvement and exceeding expectations in all aspects of our operations. Our ISO certifications serve as a testament to our enduring pursuit of excellence, and we are excited about the positive impact they continue to have on our business, our clients, and the communities we serve."