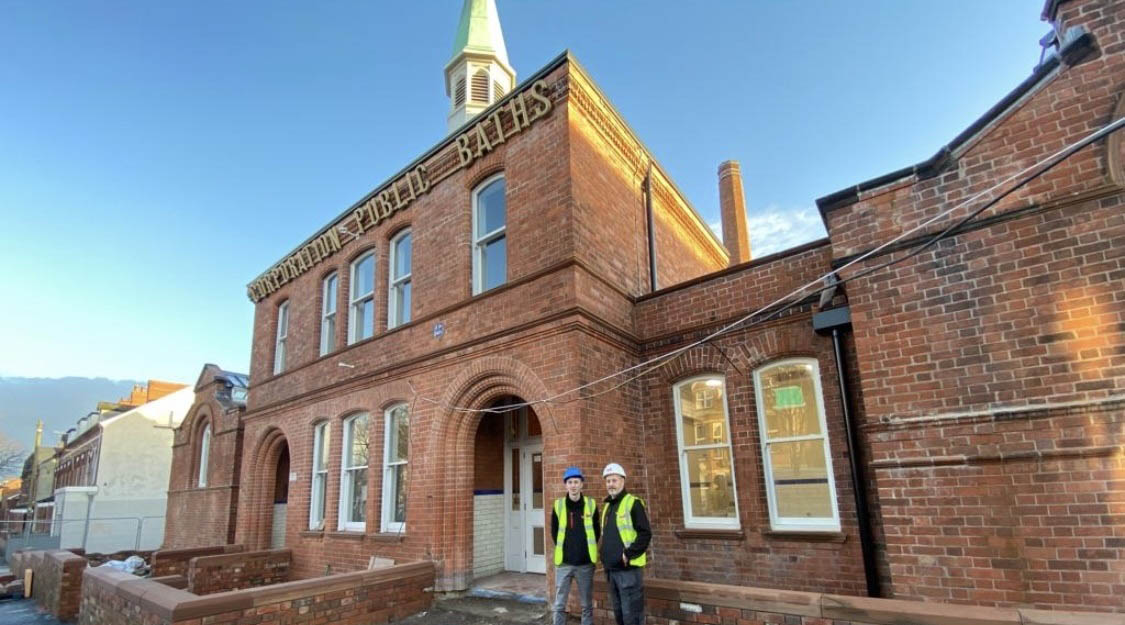 New Visitor exhibition at Templemore Baths
Marcon have been appointed Principal Contractor to deliver the interactive visitor exhibition fit out at Templemore Baths in Belfast. The last surviving Victorian public baths in Ireland.  Also, one of a very small number across the UK still in existence today.
Originally opened in 1893, the baths provided washing and sanitary facilities for the families who came to live in east Belfast, attracted by the development of the Harland and Wolff shipyard and other manufacturing industries. The baths are one of the few remaining links to a time when east Belfast was a thriving industrial community.
The exhibition fit out will form part of a major £17 million restoration project which is almost complete.  Many of the buildings original features were painstakingly restored.  A modern new build extension was added to provide a new state of the art leisure and spa facility.
The exhibition will be housed in the original building.  Visitors to the heritage and interpretation space will experience a direct and enjoyable learning experience.  Interpretive mechanisms will encourage engagement with themes and topics related to the baths.
The exhibition will connect people to the stories and social history of the area and this much loved, iconic local building.
The exhibition has been designed to appeal to all ages, learning styles and visitor types. Through a range of interpretive panels, interactive elements, audio visual technology, artefacts, and photographs, the exhibition will tell the story of the people who once swam there, grew up in the area or worked nearby.
Belfast Lord Mayor, Councillor Christina Black said: "As the sole surviving Victorian public baths on the island of Ireland, it is fantastic to see Templemore brought back to life. So many of its original features have been restored, and the building's heritage will be celebrated through the new interactive visitor attraction which will tell stories about the building's former use and its importance to the community."
Mukesh Sharma, Chair of The National Lottery Heritage Fund in Northern Ireland, said: "It's fantastic to see the restoration and redevelopment of Templemore Baths move into the final stages. It is sympathetically blending old with new by conserving the bath house's historic features, highlighting its fascinating social history and offering a modern leisure and wellbeing facility on this landmark site.  Templemore Baths has always had a special place in the heart of the community in east Belfast and has been part of its history for 130 years. Thanks to money raised by National Lottery players more people will be able to connect with their local heritage and we look forward to seeing the doors re-open to welcome visitors next year."
The Visitor exhibition fit out works will start on site in the coming weeks and is due to open to the public in Spring 2023.