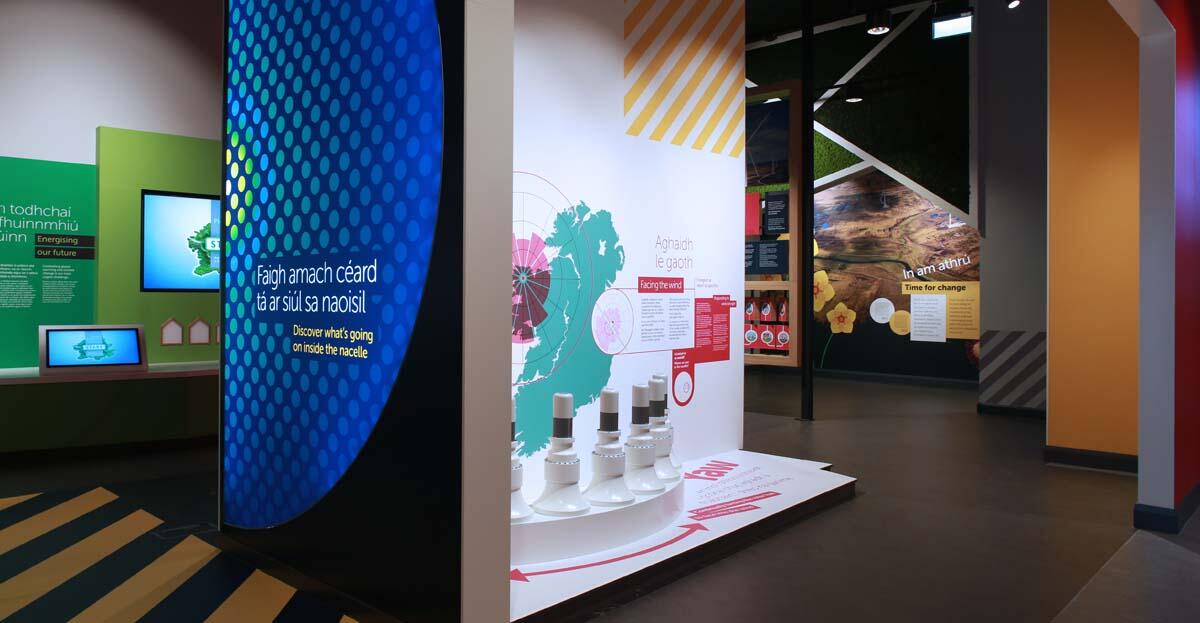 Marcon completes new interactive exhibition at Oweninny Wind Farm Visitor Centre
Marcon has successfully completed the contract for the exhibition fit-out in the new 700 m2 Oweninny Wind Farm Visitor Centre in Co. Mayo for Bord na Móna.  The new centre incorporates a permanent exhibition, café, toilets and a retail area.
Designed by Tandem, the exhibition will focus on science, engineering and technology related to renewable energy.  It will promote initiatives on caring for our planet through raising awareness of climate change and promoting the use of wind turbines. It will also consider the landscape in which the wind farm is based, characteristics of the natural environment, the bog flora, fauna and wider landscape.
Marcon was responsible for the fit-out works which included specialist joinery, setworks, AV hardware & software, interactives, graphics, display cases, signage, way finding and mechanical & electrical installations.
Hugh Bannon, Project Construction Manager at Bord na Móna Powergen commented at the completion of the project "The Marcon team were a pleasure to work with and they demonstrated a
great can do work attitude and were very much solution focused throughout the project. It is fair to say the project was challenging to deliver and was further complicated by the COVID-19 pandemic but to Marcon's credit they handled the unfolding situation in a professional and competent manner.  We are very appreciative of the excellent work and effort that the project team
put in to achieve what we consider to be a stand out exhibition."
The new visitor centre will be open to the public in early 2021.