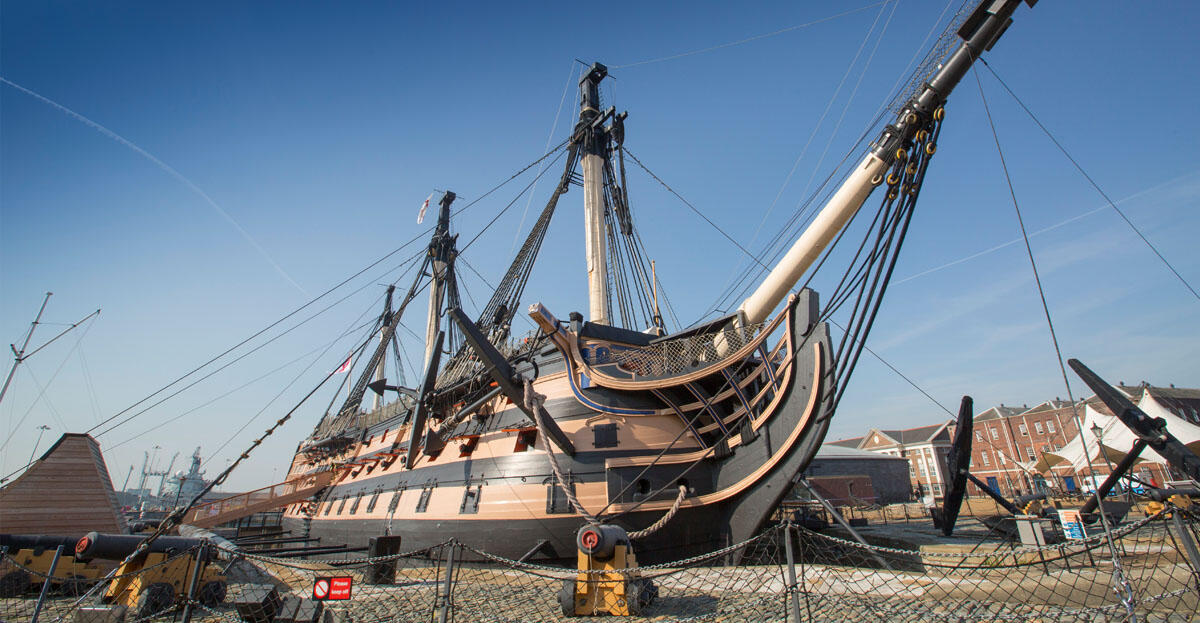 Marcon and Haley Sharpe Design join forces with HMS Victory design and build contract win
It will be all hands-on deck at Marcon and hsd after being awarded the contract for the design and build of a new HMS Victory gallery at The National Museum of the Royal Navy in Portsmouth Historic Dockyard.
The Sir Donald Gosling Victory Gallery will undergo a full redevelopment and when complete will engage and inspire visitors with the story of HMS Victory's construction, commission and conservation. The famous vessel is the oldest commissioned warship in the world and the single most important artefact for understanding the history of the Royal Navy.
Marcon and hsd will work closely with The National Museum of the Royal Navy and HMS Victory Preservation Company to successfully deliver the £1.1m project. The gallery will complement the HMS Victory on-board experience which focuses on the Battle of Trafalgar.
After an initial design period the fit-out of the museum will begin in January 2020.
Designed to reveal the physical and cultural aspects of Victory's story from 'acorn to icon', the gallery charts significant events from the laying of her keel to the huge ongoing conservation effort to preserve the nation's flagship.
Marcon Fit-Out will carry out the fit-out of the museum space, manufacturing the specialist joinery to ensure the highest standard of finish is achieved.
Martin McErlean, Heritage Contracts Manager, Marcon comments "This project is another landmark scheme for Marcon's heritage team. We are excited to be working with hsd on the design and build of the Sir Donald Gosling Gallery. HMS Victory is a world-famous tourist attraction and to play a role in showcasing the history of the ship to future generations will be very rewarding."
Lindsay McGuirk from hsd states "The fascinating story of conservation is not just a present-day one, for many years people have battled to Save Victory! With modern day techniques in conservation bringing together science, technology, engineering and art and craftsmanship, visitors can understand and appreciate her historical value, but also see the passion and pride in the team that make it their mission to protect her."
The team is excited to be partnering with ISO to develop the gallery's immersive and digital media. ISO bring great experience to the project in creative software development having worked on projects such as Titanic Belfast, Chatham Dockyard and Epic, Ireland. hsd and ISO have previously worked together on the award-winning Stonehenge Visitor Centre.
Through immersive cinematic spaces, insightful human stories bring diverse perspectives to Victory's multi-layered story. Artefacts, many of which bear the scars of battle, are presented alongside playful digital and hands-on interactives.
Andrew Baines, Deputy Director of Heritage, The National Museum of the Royal Navy said: "HMS Victory is the jewel in the crown of Portsmouth Historic Dockyard. Visitors are already familiar with the dramatic story of the ship's role at the Battle of Trafalgar. In the new gallery we will be sharing the unknown stories of her 260-year story, bringing to the fore extraordinary but little-known episodes such as bomb-damage in the Second World War, the ship's near loss in a ramming accident in 1903, and her development from a weapon of war to a national icon. At the heart of the new gallery will be an immersive AV experience unlike anything else on site. We are extremely excited to be working with Marcon and hsd on this project and look forward to welcoming visitors to the new gallery which opens Easter 2020."