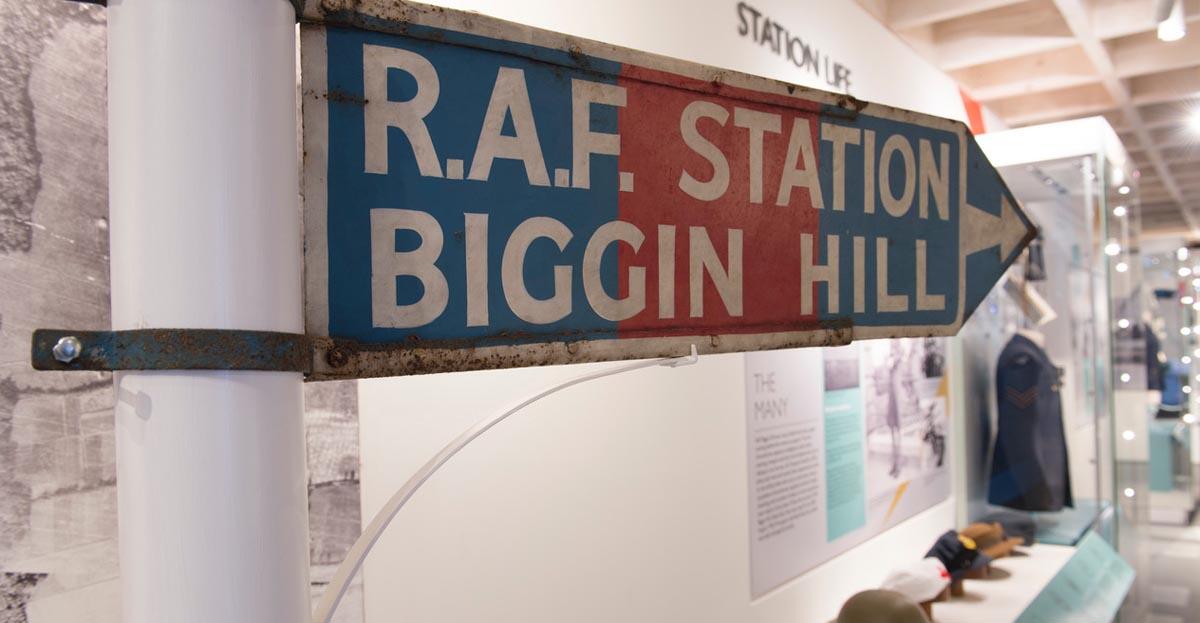 Marcon helps open WWII memorial museum at Biggin Hill
Marcon has completed the fit-out of the new Biggin Hill Memorial Museum in London. The museum tells the fascinating history of Britain's most famous fighter station, in particular its role during the Second World War.  The project also provides a sustainable future for the Grade II listed St. George's RAF Chapel of Remembrance.
RAF Biggin Hill was memorably described by Churchill as 'the strongest link'. The inspirational experiences of 'the Few', who risked their lives in defence of the nation, and 'the Many' who supported them on the ground are revealed from a wealth of newly discovered archives and collections.
Marcon worked with Redman Design, London Borough of Bromley and the Biggin Hill Memorial Museum creating a brand new visitor attraction at Biggin Hill.  The museum's focus is on storytelling and using appropriate media, objects and resources to bring the content to life supported with archival photography, film footage and sound with some specially commissioned films.
Marcon's heritage team procured and managed all elements of the project; showcases, audio visual hardware, graphics and interactive exhibits and also manufactured feature setworks, furniture and solid surface items within the new museum.
More than 80 exhibits – many donated by the public – are included in the interactive, multimedia display. The museum will be split into 'themes' – Early Years, Station Life, Community Life and Remembering. A diverse and unique array of objects will bring the personal stories to life.  The fears, excitement and losses of aerial combat will be revealed through items such as an escape crowbar for a Spitfire, a cockpit clock for a ME109 German aircraft, Br owning machine gun and complete uniforms and flying jackets.
Audio guide commentary is led by historian Dan Snow, who is joined by the voices of veterans including the late Geoffrey Wellum (the youngest Spitfire pilot to fly in the Battle of Britain at just 19 years of age) and Tom Neil. A visit to the Museum climaxes in thought-provoking displays on combat, bravery, fear and loss.
Biggin Hill Memorial Museum Director, Jemma Davey, says: "There has long been an aspiration for a museum which remembers 'the Few' and honours 'the Many'. The museum shares people's experiences of war at RAF Biggin Hill 'in their own words'. We hope their stories will inspire generations and continue to remind us of the very best of the human spirit."
Stuart Hobley, Head of HLF London, said: "Established more than a century ago, Biggin Hill has a history that is truly iconic; compelling stories of ordinary men and women who led extraordinary lives to champion our values of freedom and choice. Thanks to National Lottery players, we are proud to support the Biggin Hill Memorial Museum to ensure that those voices, and the contributions they made to our lives today, are rightly remembered."
The museum's Patron is Sir Winston Churchill's great grandson, Randolph Churchill. He comments: "The name Biggin Hill, like the name Winston Churchill, has become synonymous with Britain's defiance of Hitler and Nazism. This is highly appropriate as the history of the man and the airfield were always closely entwined. My great grandfather helped establish the Royal Air Force in the aftermath of that first global conflict, and watched as Biggin Hill developed from his nearby home in Chartwell. This was an airfield he knew, and which helped inspire his oratory about the role of 'the Few'."