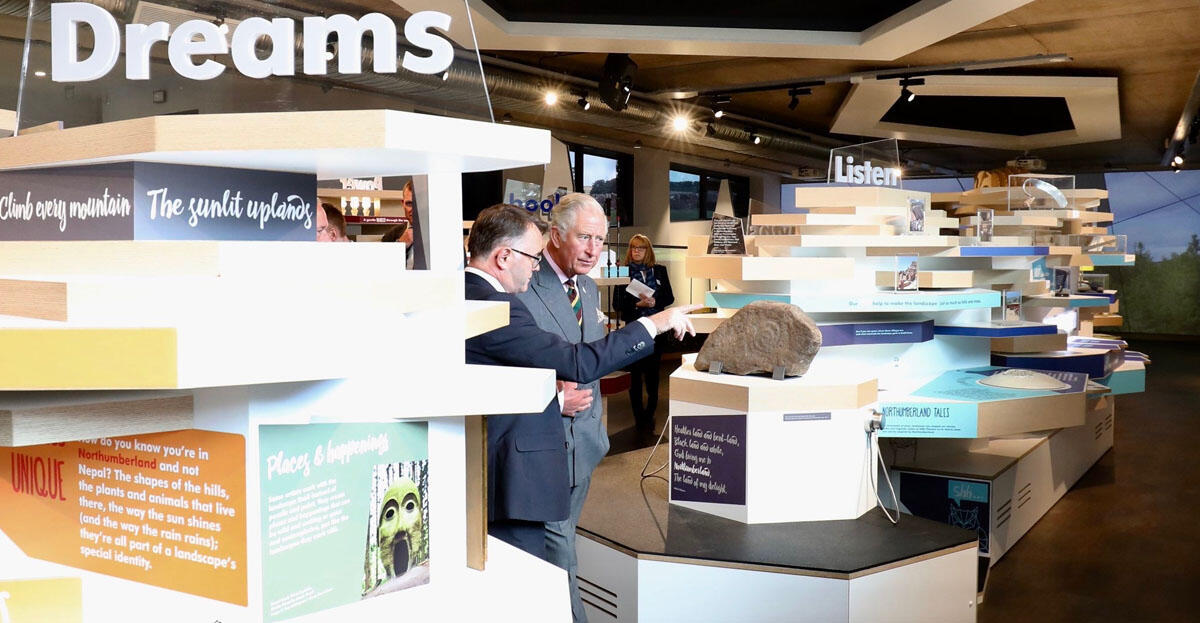 HRH Prince of Wales opens The Sill: National Landscape Discovery Centre
Today Northumberland National Park Authority welcomed The Prince of Wales on a special visit to commemorate the official opening of The Sill: National Landscape Discovery Centre on Hadrian's Wall.
His Royal Highness was given a guided tour of the award-winning building.  The Sill is the UK's first dedicated National Landscape Discovery Centre and the result of a pioneering partnership between Northumberland National Park Authority, YHA (England and Wales), and funded by the Heritage Lottery Fund (HLF) through a £7.8 million grant made possible by National Lottery players.
Named after the nearby Great Whin Sill, one of the UK's most significant geological features, the Centre provides a gateway to inspire and enable people of all ages to understand and explore the iconic landscapes, history, culture and heritage of Northumberland.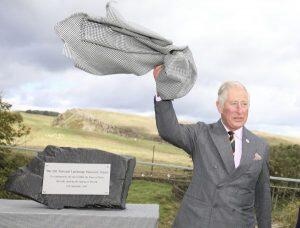 To mark his visit, The Prince of Wales unveiled a special commemorative stone on the Centre's Whin Sill grassland roof, and took time to enjoy the iconic view of the Hadrian's Wall UNESCO World Heritage Site.
Glen Sanderson, Northumberland National Park Authority Chairman, said: "We are honoured to welcome His Royal Highness here today to join us in celebrating The Sill and its purpose of connecting people with our wonderful countryside.
"The Sill provides an important opportunity for people to explore, understand and nurture our landscapes and the people, heritage and wildlife.
"Today's celebration is testament to years of hard work and the firm belief that our nation's exceptional landscapes should be enjoyed by as many people as possible. We want Northumberland National Park to be a sustainable cultural asset that benefits the region for many years to come."
Since opening to the public in July 2017, the Centre has rapidly become one of the region's leading visitor attractions, welcoming over 170,000 visitors and well ahead of the National Park Authority's original projections in just 12 months.
Marcon played a key role fitting out a series of designated spaces within the building namely the welcome lobby, visitor information, temporary exhibition and the main interpretive exhibition.  Each of these spaces hosts a range of audio visual displays, graphics and interactive programmes.
Ivor Crowther, Head of HLF North East, said: "With Hadrian's Wall, International Dark Skies, stunning landscapes and many other parts of our incredible heritage on its doorstep, The Sill is the perfect starting point from which to explore Northumberland National Park. Thanks to National Lottery players, this state-of-the-art discovery centre has already attracted thousands of visitors and its year-round programme of exhibitions and activities for all ages is sharing this area's incredible stories and unquestionable beauty with more people than ever before."
The Sill represents the single largest investment ever made in a UK national park. In May this year, the building received a RIBA North East Award from the Royal Institute of British Architects for architectural excellence. It has also been nominated in the Construction Industry Research and Information Association's (CIRIA) Biodiversity Awards.